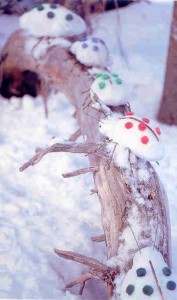 Passing along a suggestion for a fun little book for the snow lover in your life: Snowmen: snow creatures, crafts, and other winter projects includes instructions for making more than twenty creations from snow and easy to find materials. Why make a traditional snowman when there are so many other possibilities for sculpture!

The snowbugs at left are made with wooden skewers, pine needles for antennae, raisins for eyes, twigs for legs, and snow spots colored with dry tempera paint. Just the thing to brighten the winter garden.
I bought this book a few years ago for my husband who likes to play in the snow when he's not out plowing it. One year he made a big teddy bear holding a bright red heart colored with food coloring on our side lawn – very cute! Mostly I've used the ideas in the book and really enjoyed making the porcupine, although those long pine needles were hard to find in the neighborhood. The authors suggest using a layer of leaves instead to make an armadillo.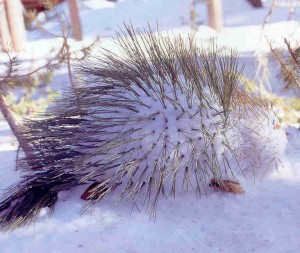 If you have kids or a sense of whimsy yourself, I think you just might enjoy this one. So far, there's no snow for me to play in, but I know some of you have had a fair amount already. Get out and have a little fun!
Note: All photos are scanned from the book and weren't done by me.