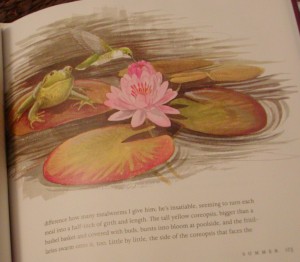 The past week at work has been crazy with holiday parties, cookies and fattening goodies everywhere you look, and coworkers bearing gifts for one another. In the midst of so many distractions I've been trying to get my desk cleaned up so that I can have a week's vacation without feeling too much anxiety about the state of affairs I will return to after New Year's. So far I haven't made very much progress, but I hope at least that my office phone won't be ringing off the hook the whole time I'm away from my desk.

The small group of people that I work directly with has a gift-giving routine of one sort or another each year. Some years we do a grab bag, but the last few years we've been doing a Secret Santa where each person draws a name and buys a gift for a particular person. This year each of us included a wish list to help with purchases and that seemed to make everyone happier about the gifts they received.

Some of us also exchange gifts more privately, and that's the point of what I want to write about tonight. I bought Julie Zickefoose's book, Letters from Eden, for two of my coworkers. For Anna, I thought it might be something of a stretch; a gift given more to reflect my interests and share some of the passion that I feel for nature. For Kathy, I knew it was just the thing. Or at least I had hoped so.
I'm really terrible at buying gifts for people and struggle to come up with ideas. But this gift, this book, is perfect for her and I knew it as I watched her flipping through the pages this morning when I gave it to her. She was admiring the artwork and kept returning to this page and the illustration of the bullfrog and hummingbird. That was sort of a surprise because I had expected to see her pouring over the turkey vulture drawings because she thinks of tv's as her totem, but no; it was this page and an opossum in another essay that caught her eye.

I wish that I knew more people that I could share this book with, it is just so beautiful. I say that without even having really allowed myself to read it yet. The artwork is so wonderful and lovingly drawn. It was just the thing my friend needed this day.

Thank you, Julie, for putting a smile on my friend's face.