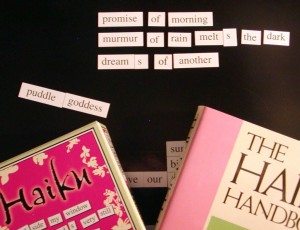 A few of the nice things I received for Christmas are pictured in the fuzzy photo at left; two were gifts from coworkers and one was a gift to myself. The magnetic poetry kit and haiku handbook were gifts from Kathy and Debbie after I expressed an interest in both. The 2007 magnetic poetry calendar I bought for myself because it includes a magnetic board that I can use at work where my fabric-covered cubicle doesn't allow for easy magnetic poetry writing. The magnetic poetry kits are a fun toy – I had one years ago, but it's lost in the attic – so I was looking for another to replace that one and to play with at work.
What's especially nice about the calendar is that it includes a monthly quote and writing prompt. The prompt for January is called *New Thinking* and talks about how often the challenge of moving forward isn't just seeing the path ahead, but being able to take the first step. It suggests that the wanna-be poet choose a favorite word for the month and use that word in the first line of a poem, using it as differently as possible each day: as a noun, a verb, an adjective, as something good, as something bad, etc. to see where this one word can take you.
There are a little more than 200 magnetic word tiles included with the calendar and the word I selected for this first day of the first month of the new year was *promise* and I composed this haiku:
promise of morning
murmur of rain melts the dark
dreams of another
As if writing haiku isn't challenging enough by itself, I limited myself to the 200 words that are included with the calendar. I think I ended up with a haiku that's a bit darker than I would have liked for a New Year's Day poem, but today was a dark and dreary day. I like that I was able to express some of the hope and promise that dawns with a new day and a new year.
For more New Year poetry visit One Deep Breath.