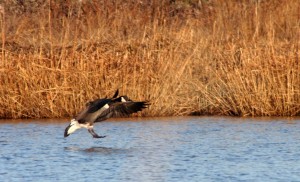 I did my volunteer gig today at the bird observatory and spent an hour or two afterwards stalking the less-than-abundant waterfowl with my camera. Sandy Hook should be really good now, but the huge rafts of ducks I expect to see in the winter aren't here.
My favorites, the long-tailed ducks, were too far out in the bay for even my 200-400mm lens to reach nicely. They are such beautiful ducks; black and white with short, pointed dark wings. They were very vocal today – the males almost yodeling – have you ever heard them sing? Listen for them; you won't soon forget the sound of their courting.
Despite this lens that's near as long as my arm and which seems to weigh about as much as I do, the few small groups of waterfowl were little more than specks in a sea of blue. But the Canada Geese and Brant at Plum Island were close enough and cooperative and the light was good, so I found a dry spot in the marsh to sit and spent an hour or so in the company of these common birds. This pic was my favorite, a Canada dropping into the marsh and caught in the middle of putting on the brakes to land.
– – – – – – – – – – – – – – – – – – – – – – – – – – – – – – – – – – – –
The Good Planets show will be here again next Saturday, in case you've been newly inspired to submit a photo. Send one or two pics to me at lc-hardy AT comcast DOT net sometime before Friday. Wasn't this week's show grand? Thanks to all who submitted photos and stopped by to comment.
– – – – – – – – – – – – – – – – – – – – – – – – – — – – – – – – – – –
Every so often I get brave enough to tackle HTML code and add the links of some blog friends to the sidebar. In the last week or two I've added quite a few from my bookmarks that I hope you'll visit sometime. One of those friends, Vicki of Outside In, calls the community of people she links to her neighborhood. That's a nice way of looking at it, don't you think? What I find really neat is that often once I add a link here, I see that some of you are visiting that blog and making friendships of your own; maybe initially because of that link. I know that I've made some friends because of the links you include on your blogs. Anyway, that's just my long-winded way of saying thank you for being such kind and supportive people. It's nice to see people being nice to one another, you know? Oh, and go drop in at Vicki's; she's got a great blog and is very funny. Here's a link to her most recent post which had me in stitches.