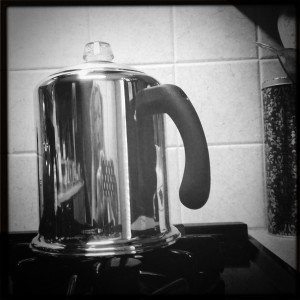 New coffee pot, new camera, new life… why not a new photo project, too?!?
I'm trying out the 365 Days Project to take a photo a day for the next year. Sounds pretty easy for someone as camera addicted as me, right? I figure it'll be a sweet way to chronicle this first year in a new place. I also have a new camera – the new iPhone 4S – and it combined with Hipstamatic is the perfect toy!
I'm not sure how often I'll share pics from the project here, but considering the difficulty I'm having with writing regular posts to this blog, if nothing else, a photo a day will at least give me something to blog about. The truth is, I have plenty to blog about, but the difficulty lies in how much to share and what to keep close to my heart. I imagine I'll work that out with time and practice. For now it still feels like too much, as if too many people are reading over my shoulder…
Anyway, about the new coffee pot…
; )
The cheapo Mr. Coffee died yesterday when I was just desperate for a cup…
Coffee this way reminds me of my dad and of camping. I love the smell of it cooking on the stove. It's especially yummy this way, I think, but it takes forever to be ready. So today I snapped a pic while I waited.
Anyone else out there prefer perked coffee over drip-brewed? Any hints for getting the basket contraption out of the pot without burning my fingers or should I go to the garage for that camping tool?
: )