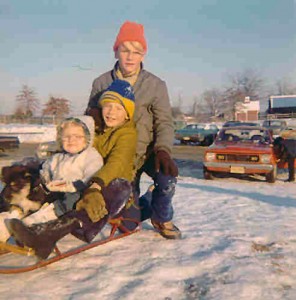 I came home from my brother's this past weekend with a humongous tub of family memorabilia that had been in storage since we sold my dad's house after he passed away. I'm having a good time going through all the old photos that I haven't seen for quite a few years.
Most of the stuff in the huge tub had been kept forever in the bottom of the china cabinet in my dad's dining room – that's where my mom always kept the baby albums, homemade cards from us kids, the report cards and graduation certificates and all the other stuff of a family's memory.
My brother being the pragmatist (and the one paying the bill for storage) has decided that we need to finally figure out what to do with the things we haven't been able to bear to throw away or to give away. None of us has the room or the need for a dining set, or two bedroom sets, or another side chair and end table.

What do we do with these things that we grew up with; what do we do with the sentiment attached to them? Throw it away? Give it away to some faceless stranger that has no sense of the lives and stories that are a part of each piece of furniture? Will the little girl who ends up with my canopy bed care about the dreams that visited me in that bed, or how I used to hide beneath it when my parents had an argument? Will another family share Thanksgiving or Christmas dinner over our dining set and know how my mother loved that table or how my dad re-tooled it in later years as his computer desk? Do these memories matter to anyone but us? Of course they don't; they're just things after all. But knowing that doesn't help with the feelings of guilt.

My mom liked to pose photos like this one, with us lined up from eldest to littlest. According to the date on the back of the pic I was 3 and Kevin, the eldest, 13 and Brian in the middle at 11. I'm guessing it was taken at Holmdel Park where we used to go sledding and I think the dog may be Rufous (or is it Fritz?), who I don't remember but for pictures of him.