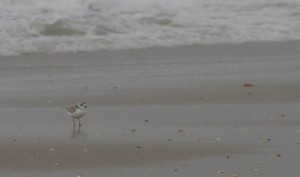 My little blue Honda was sort of waving at me from the office parking lot on Friday. Does that ever happen to you? It was waving and winking and whispering about how nice a few hours at the beach would be. So we took off together and went to Sandy Hook to see the Osprey and the Piping Plovers, both just back in the last week or so from parts south.

Late winter/early spring birdwatching is as good an excuse as any to get out of a stuffy and overheated office. Most places hold at least a few newly arrived birds. The beach was deserted and I felt the pleasure of finding this little Piping Plover and having it all to myself. The dreary weather may have kept other less desperate birders inside, b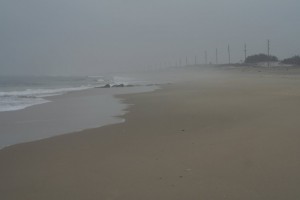 ut the fog and the crash of the waves only seemed to amplify the pleasant effect of hearing the plover's repeated "Peep-lo" calls to one another across the beach. I was almost giddy with hearing it.

Piping Plovers are as special as they are hard to spot. NJ has on average just 120 nesting pairs. I can just imagine how confused and alarmed they must be when the deserted beaches they arrive on in March are increasingly populated with people as the weather warms and the nesting season progresses. They face predation from beachgoers and their pets, and from red foxes, racoons, and laughing gulls.

Symbolic string fences go up in early March to protect the high dunes where they nest from foot traffic by beachgoers. Volunteers monitor and protect the sites and educate the public about why the areas are closed. Cages or exclosures are placed around the nests once they're dug to keep out foxes and large birds. These things help, I'm sure, but still the population continues to dwindle. There doesn't seem to be enough being done, and the national park service doesn't seem to have a realistic plan in place to protect these birds. Imagine these little ones having to find their way to the water past your beach blanket.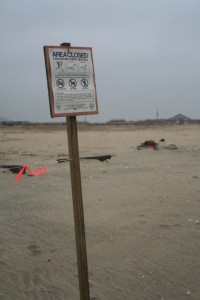 I've read recently of a new management plan in the works for Sandy Hook, the goal of which would be to achieve an average population of 51 to 61 pairs of Piping Plovers with a reproduction rate of at least 1.5 chicks per pair for five years. I'm anxious to see what is done to achieve that goal.
I seem to have gone off on a bit of a tangent here, but these little birds are close to my heart. I think they deserve much better than the *symbolic* protection we're affording them: a bit of string, a few educational signs that most ignore, and a heap of garbage just beyond their property line. Maybe if more people had a rainy March day brightened by the plaintive calls of this bird, that, as Peterson says is, "as pallid as a beach flea or sand crab, the color of dry sand." Maybe that's their problem; they're just not showy enough to merit our attention or our protection.