I spent yesterday hiking in the Pine Barrens looking for neat plants. I didn't find many that I was hoping for, but thought I'd share those that I did find. I ended up at Webb's Mill Bog and was glad to see that it was safe from the recent wildfire. Quite a few rare plants can be seen here, but the trick seems to be knowing when to go looking for them, which I'm still learning.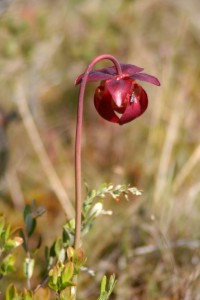 The Pitcher plants were blooming; these are carnivorous plants and insects are drawn to the cluster of leaves (the pitcher) that are below the flower. These pitchers hold water and when an insect falls in, they can't crawl or fly out and are then consumed by the plant.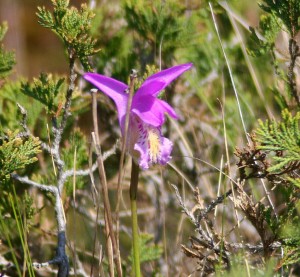 I was happy to find the first of three closely related bog orchids in bloom – this is Arethusa, which is also called Dragon's Mouth. The lip of the flower serves as the landing pad for insects, usually bumblebees, who come to pollinate them. These grow only in bogs, peaty meadows, and damp places where sphagnum moss grows. There were maybe a dozen in bloom from my vantage point, and most were growing in close association with small cedars.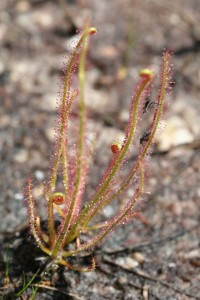 My favorite find of the day were the sundews – this is a Thread-leaved Sundew – nothing much to it, but these are cool little plants that have hairs tipped with sticky glands to attract and trap insects. This is another carnivorous plant that relies on insects for extra nutrients that can't otherwise be obtained because of the nutrient-poor environment in which it grows. If you enlarge the pic, you'll see that there are two flies trapped already in the sticky hairs. They're tiny things, maybe just three inches tall, but they glisten in the sunlight. They'll bloom late in June.