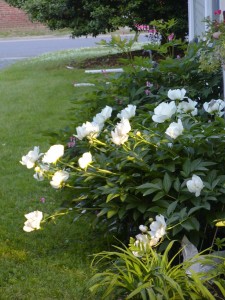 I had wanted to brag a little last night about my peonies; aren't they nice? I prefer single peonies, rather than the doubles that flop all over the place, even though the singles don't last in a vase. All of those white flowers you see are on one plant! Right next to it is another peony that never gets any buds. The foliage is beautiful, but no buds. I've read that's because either there's too much shade or it's planted too deeply. Neither explanation makes any sense to me because the one next to it is doing so beautifully. Any ideas?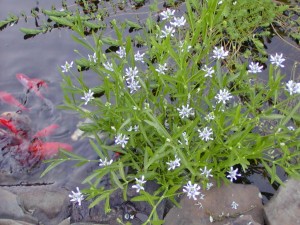 I bought this pond plant a few weeks ago and love it! Problem is I don't know what it is, but I do think it may be the same flower that Susan was wondering about yesterday.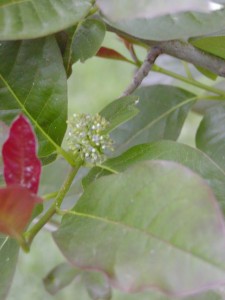 This is a flower on the Sourgum Tree we planted this spring. Not much to look at, but the birds and I are hoping for fruit this year. The tree is leafing out nicely, and the new foliage is tinged with purple.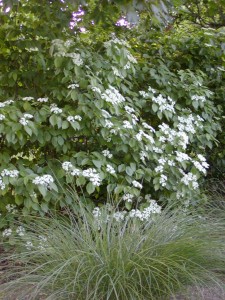 The viburnums are blooming, too. This one gets the most sun so it blooms first and the most heavily. These are Linden viburnums; the Winterthur is struggling to put out leaves and I doubt there will be any blooms. There has got to be some problem with the spot it's planted in because this is like the 3rd or 4th Winterthur I've planted there and every one of them dies. Maybe I'm just not meant to have that particular viburnum as much as I like it. The Cranberrybush Viburnum we planted this spring bloomed very early because it was greenhouse raised, but it was pretty while it lasted.
So what's blooming where you are?