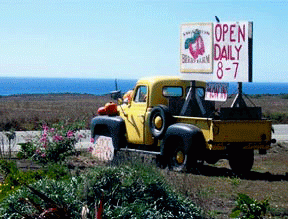 For the last month or so I've been reading Barbara Kingsolver's latest book, Animal, Vegetable, Miracle: A Year of Food Life about her family's attempts at changing their food habits in such a way as to buy only locally grown food, grow the food themselves, or learn to do without. I'm only just half way through the book so I don't know how their experiment with eating locally turns out, but already I find myself becoming more aware of the food choices I make. I haven't made any changes in my food-buying routine yet, but this book has me thinking.
I'm mentioning this today because I had one of those oddball experiences that make you stop and scratch your head at how illogical things can be. I stopped during my lunch hour at a hugely popular orchard/garden center/gourmet food place with the idea of buying some loose strawberries. I like to buy them that way because I prefer the smaller local berries over the humungous, but tasteless, prepackaged berries that come from California. Parking my car I noticed a sign for u-pick raspberries at the back of the lot and was excited at the prospect of fresh raspberries instead of the half moldy ones that come from California. Of course I didn't have time on my lunch hour for picking raspberries, but assumed there'd be pints of berries available for purchase inside the market. You know what they say about assuming, don't you? All I found for sale were the prepackaged raspberries from California, despite the acre or two or fresh and locally grown berries in the back lot! Did I buy them? No, of course not. On my way home, I stopped at the farm stand around the corner and bought raspberries from the farmer who is my neighbor. The farmer whose berry fields had woodcock this spring and who waves at me from his red tractor when he has to drive it through the neighborhood, past the Hummers and McMansions that are the norm here anymore. In addition to the gourmet fare this area seems to demand that he provide, he also makes an effort to support other local farmers and artisans; he sells fresh mozzarella and bread that's handmade locally and colorful heirloom tomatoes that you'll never see in any supermarket. Plus, he grows his own sweet corn, not here in our backyard, but a few miles away where the McMansions haven't yet encroached on the space necessary to grow a field of corn.
Eating locally is all the rage right now and it seems almost possible for someone like me who loves fruit and vegetables and could easily go a month or more without eating meat. This is the season of bounty here in the Garden State and there's lots of fresh produce. If I had to rely on my own vegetable garden I'd quickly starve, so I'm glad for the local farmers who grow berries and apples, or broccoli and collard greens, and then let me walk their fields and pick my own bounty from their labor. It feels good to me to do this. It's a small thing really, but if we value the land and the farms that feed us, I think it's worth the challenge to find and purchase locally grown food.
I came across this list of ten reasons to eat local (from Eat Local Challenge – an excellent blog:
Eating local means more for the local economy. According to a study by the New Economics Foundation in London, a dollar spent locally generates twice as much income for the local economy. When businesses are not owned locally, money leaves the community at every transaction. (reference)

Locally grown produce is fresher. While produce that is purchased in the supermarket or a big-box store has been in transit or cold-stored for days or weeks, produce that you purchase at your local farmer's market has often been picked within 24 hours of your purchase. This freshness not only affects the taste of your food, but the nutritional value which declines with time.
Local food just plain tastes better. Ever tried a tomato that was picked within 24 hours? 'Nuff said.
Locally grown fruits and vegetables have longer to ripen. Because the produce will be handled less, locally grown fruit does not have to be "rugged" or to stand up to the rigors of shipping. This means that you are going to be getting peaches so ripe that they fall apart as you eat them, figs that would have been smashed to bits if they were sold using traditional methods, and melons that were allowed to ripen until the last possible minute on the vine.
Eating local is better for air quality and pollution than eating organic. In a March 2005 study by the journal Food Policy, it was found that the miles that organic food often travels to our plate creates environmental damage that outweighs the benefit of buying organic. (reference)
Buying local food keeps us in touch with the seasons. By eating with the seasons, we are eating foods when they are at their peak taste, are the most abundant, and the least expensive.
Buying locally grown food is fodder for a wonderful story. Whether it's the farmer who brings local apples to market or the baker who makes local bread, knowing part of the story about your food is such a powerful part of enjoying a meal.
Eating local protects us from bio-terrorism. Food with less distance to travel from farm to plate has less susceptibility to harmful contamination. (reference)
Local food translates to more variety. When a farmer is producing food that will not travel a long distance, will have a shorter shelf life, and does not have a high-yield demand, the farmer is free to try small crops of various fruits and vegetables that would probably never make it to a large supermarket. Supermarkets are interested in selling "Name brand" fruit: Romaine Lettuce, Red Delicious Apples, Russet Potatoes. Local producers often play with their crops from year to year, trying out Little Gem Lettuce, Senshu Apples, and Chieftain Potatoes.
Supporting local providers supports responsible land development. When you buy local, you give those with local open space – farms and pastures – an economic reason to stay open and undeveloped.

All good reasons to stand behind and buy from the local farmer. Plus, the berries are delicious!