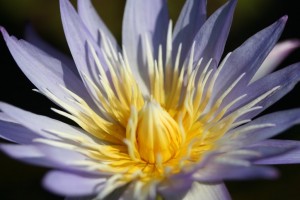 Remember the new purple waterlily I mentioned in this post, well, here's one open. Nice, huh? I like the color combination, but wish it would bloom a bit more. I feel like I ought to fertilize the pond plants, but with so many fish at the moment, it's probably not necessary!
We had an odd frog incident: I found a smallish bullfrog dead on the slate floor of the gazebo next to the pond. At first I thought maybe it had hopped out and baked itself somehow on the oven-hot slate, but then I noticed one of its' legs was a few feet away and half-chewed up. This afternoon brought a possible explanation: my husband startled a cat from the pond area this morning. That explains how yesterday's dead frog moved itself a foot or more by this afternoon! I also found a black swallowtail dead on the floor of the gazebo – wings only! I expect cats to hunt birds and baby rabbits, but bullfrogs and butterflies?

I wish my neighbors were more responsible with their cats. I could never get away with the same behavior with a dog – why should it be any different for cat owners? At any rate, my husband set a trap out – I would hate to see a neighbor's beloved pet end up at the pound, but we won't have a well-fed housecat using our garden as a hunting ground.