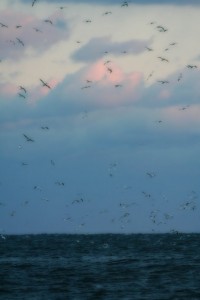 I am watching the white gannets
blaze down into the water
with the power of blunt spears
and a stunning accuracy–
even though the sea is riled and boiling
and gray with fog
and the fish are nowhere to be seen,
they fall, they explode into the water
like white gloves,
then they vanish,
then they climb out again,
from the cliff of the wave,
like white flowers–

from Gannets by Mary Oliver
A glimpse over the sea wall at a huge group of gannets feeding close to shore brought me back onto the beach at Sea Bright yesterday. It was a good thing that my camera battery gave out from the cold, or I might've stood there watching long enough to turn into a popsicle stick.
Even the fishermen were complaining of the bitter wind!
Gannets are a treat to see and there's some mystery of weather I don't understand that brings them close to shore. Whatever it is, fishermen react to the same call of wind and tide or whatever and were out in numbers yesterday too.