Susan's counter thingy says that the Cape May Weekend is just 15 days away and I hear that Lynne has already started packing and KatDoc is saving quarters for all the tolls on the Parkway… and I'm resisting the urge to visit ahead of the rest of the flock.
I'd really like to go now while it's still warmish and the Monarchs and Buckeyes are moving through. I'm sure Bunker Pond is still full of egrets and that there's plenty of Peregrines soaring past the lucky people crowded in the shadow of the lighthouse and Merlins cruising low over the dunes in the late afternoon. Have a peak at some of the most recent numbers here.
Rather than that, I'll think I'll probably spend the next couple weekends wandering around the Pine Barrens. October is a great month to visit and there's lots to see and do with the beginning of the cranberry harvest there.
I just got distracted with the duck numbers in that Cape May link, sorry.
Girls… you've got to find time to visit the Seawatch at Avalon while you're here… it's such a spectacle! I remember standing out in the pouring rain on Friday of last year's weekend, wondering why you all weren't there with me to witness the tens of thousands of scoters flying past in the fog and rain. It was just unbelievable and very wet.
😉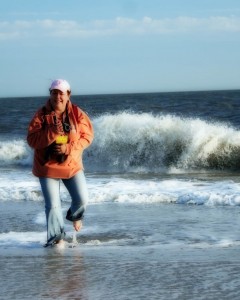 Something else we should all look forward to is more goofy pics of Susan playing in the surf. Though I suspect I may instead have my camera trained on Lynne as she dips her toes in the Atlantic for the first time.
So girls… what's on your to-do-in-Cape May-lists?
Heather, you still in? John? Patrick? Patrick's away on his honeymoon… what am I thinking?
😉