I drove south to Cape May on Saturday, in the middle of *Hurricane* Hanna, and so missed a lot of the signs of the season I know to look for along the coast. I missed the beach plums ripening close to shore and the wash of russet-gold that comes to the sea meadows that border the parkway in South Jersey. Mostly I concentrated on the raindrops and the taillights of the cars in front of me so as to not run off the road and into a tree. God I hate driving in the pouring rain!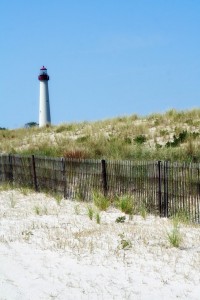 September is always beautiful in Cape May, regardless of the weather. By Saturday evening, Hanna was little more than a gray curtain over the ocean, but there was some hope of good birds brought in by the storm. Unusual birds never materialized beyond a Magnificent Frigatebird that we missed (of course!) I did hear some interesting call notes overhead one night on the beach though. If you ever have reason to be on the beach at night in the late summer under a clear sky – take it!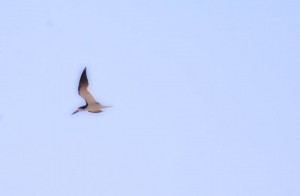 All the usuals for late summer were there and things are happening just as they should; I guess to most, September belongs to Autumn, but for me it's still Summer and the best part at that. It's hardly ever too hot and the nights have a faint chill that hints of what's to come. The skimmers were barking and dancing over the cove by the jetty while we played in the surf as the sun set down along the bay…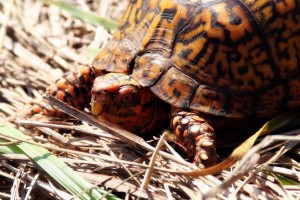 We crossed paths with a box turtle looking for shade from the hot sun at Hidden Valley among the balled up fists of Queen Anne's Lace going to seed and the ripening greenish-purple berries of Porcelain-berry Vine. We didn't spot any of the hunting hawks that I know to look for there, but instead found vultures pitching and banking among the few clouds overhead.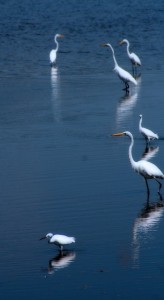 I can't go to Cape May and not remember other times there; other September days with hordes of migrating monarchs and dragonflies, clouds of sanderlings flying in a lane close to the edge of the ocean like distant twinkling lights as they turn and flash their underparts in the sun, wheels of hawks rising together over the Point and then setting their wings and streaming south.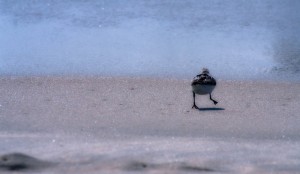 The sanderlings this weekend were doing their thing on scurrying feet, up and back with every shining wave, alone or in twos. The egrets congregated in big groups at Bunker Pond in front of the hawkwatch, entertainment for the lack of hawks, despite a merlin spotted feeding on a swarm of dragonflies. Of course there's no picture of that; the best memories somehow manage to always escape my camera.