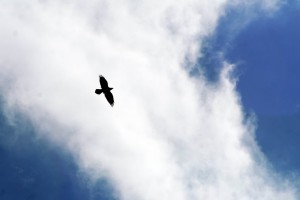 I know it's a Raven, but it's the best bird pic I got today during a couple hours spent at the Montclair Hawkwatch. The hawkwatch site is NJ Audubon's smallest sanctuary and the second oldest continuous- running hawkwatch in the country, second only to Hawk Mountain in Pa.
Finding hawks at a ridge site, as opposed to a coastal watch like Sandy Hook or Cape May, is really difficult and requires a lot of patience and much better eyesight than I have. We were looking at speck birds for most of the day! I did get to see a few kettles of Broadwings way up in the clouds (yesterday they counted 4437 Broadwings), some Osprey and Sharpies, a couple Kestrals and had a nice look at a Peregrine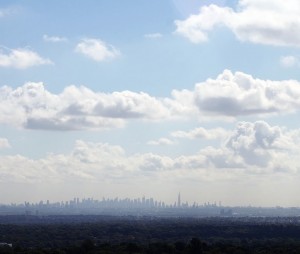 .
We had to be glad for all those clouds in the sky cause they gave us landmarks to help locate the birds soaring high above. A fun day, but I prefer coastal hawkwatching that doesn't require quite as much imagination!
I met this guy there who has some fantastic hawk pics on his Flickr site.
Visit here for more Friday Skywatch posts.