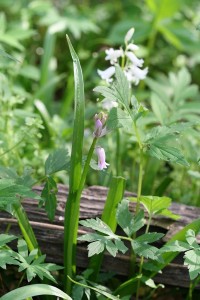 So I've not been around very much this past week, but I've been busy finishing up with school and out and about enjoying the bounty of spring. Plus, I didn't have much of interest to say, still don't in fact, but don't want to make it a habit to just post a pic and be off.
Since I last had anything much to say here I've been to two wakes for coworkers of my husband and a memorial service for an old birding buddy who passed away back in January. I dragged my husband along on a day trip to the Pine Barrens and spent a lunch hour or two at the little park near to where I work watching the tree sparrows fight over the too few nest boxes. I had a successful evening looking at wildflowers in the woods and three unfruitful visits to various spots locally looking for migrants. The only new birds I've added this week are Baltimore Oriole, Rose-breasted Grosbeak, Eastern Kingbird, Ovenbird, Oystercatcher, Willet, Common Tern, Laughing Gull and whichever Vireo it is that sings incessantly from the treetops. Other people are seeing great birds, but I haven't managed to be in the right spot at the right time.
The pond is up and running and the fish are happy, my husband has cut the lawn twice and we got our hands on 5 little dwarf mountain laurels for the woodland border. I'm looking for ideas of what to plant as a groundcover in that area beneath the American Holly trees, so if anyone has any bright ideas I'd love to hear about them soon, while my husband is in the habit of digging planting holes. If I don't come up with any other ideas, I'll probably plant a few ferns just as soon as I figure out which ones might actually be able to survive in the dry shade.
Hope you all had a happy weekend; I'll be around to visit with you before too long.