The iceboaters weren't the only ones enjoying the ice on the river this weekend. Lots of people came out to skate and play hockey. They were also plenty of dog walkers.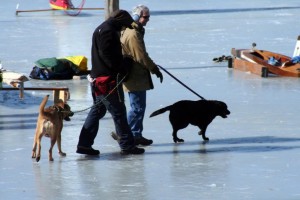 I watched this pair for half an hour or so – laughing the whole time. Each started out with some trepidation when first on the ice.

But nervousness quickly turned to doggy-glee and silliness.


There was lots of racing around and the inevitable sliding when trying to stop.

I'm not sure what you call this, but it looked like fun and less dangerous than the boating. I'd imagine their arms must get tired.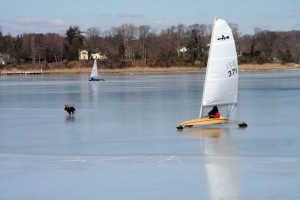 These two wandered at will on the ice and didn't get run over or cause any accidents

I went back today and saw some of the beautiful large iceboats. Many of the older ones are made of wood and are passed down in families. I'm just too lazy this eveining to download those pics from the camera. The ice at shore was getting soft by late this afternoon, but that didn't stop some fools with baby carriages (can you imagine!) from going for a stroll on the ice.

I also went today to a *Seal Walk* out at Sandy Hook, but that was a total bust; there was a huge turnout – must have been at least a hundred people – but no seals. I'll keep my eye out for them and hopefully will spot a few one of these days.